Terraza Del Pacifico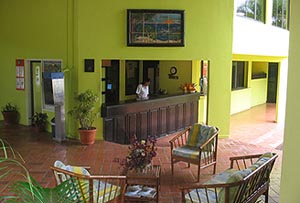 Terraza del Pacifico Hotel is a unique destination for a wonderful vacation. Here, we combine quietness and security with a party vibe and ambiance. The best international surfing contests have taken place at our hotel. Also, our spacious rooms and open-air restaurant will provide you with the most comfortable atmosphere. One of our biggest attractions is the Chiclets Tree Canopy Tour, which is one of the biggest and oldest in Costa Rica, and will be a compliment to your trip. The most important facilities of the hotel are Right outside your door, you have a beach with big waves that invite you to surf the whole day. A beautiful ranch bar in front of the beach offers great views, good snacks, cool drinks and great music. An adult swimming pool with a wet bar, as well as, a pool for children.
We are a specialized surf hotel. Our hotel is right on the beach and the Arenas Restaurant and Killer Reef Bar are just a few steps from the beach. You will have an amazing view of surfers, sunsets and sunrises. The waves at Hermosa Beach are constant the whole year with excellent size almost every day. That's why we are one of the best places to surf in Costa Rica. Many international surf contest have take place here at Terraza del Pacifico and one of the most radical and unique events in Latin America is the night surf contest. We have a fully illuminated beach that allow surfers to run waves even at night. That's why people say the best surfers have to come to Terraza because we're definitely a real challenge and amazing experience for all the surfers around the world. So what are you waiting for? Get your board and be our special guest at Terraza.