Italy
Worldwide Adventure Travel
It doesn't get better than Worldwide Adventure Travel!
Call or email for a quick quote and details on air, 4x4 and lodging.
(321) 773 4878
michele@worldwideadventures.com
Book Now
Let Worldwide Adventure Travel experts help you with your Italian vacation! Following is information about some great destinations in Italy for you to get your bearings. You could stay in one city most of the time and take day trips to some of the areas you want to visit or travel from city to city. Give us a call or send an email to talk about your trip. Our contact information is above. Together we will put together the vacation you have dreamed about. We will package your air, hotels and tours to give you the best overall price!
Cinque Terre (5 Villages)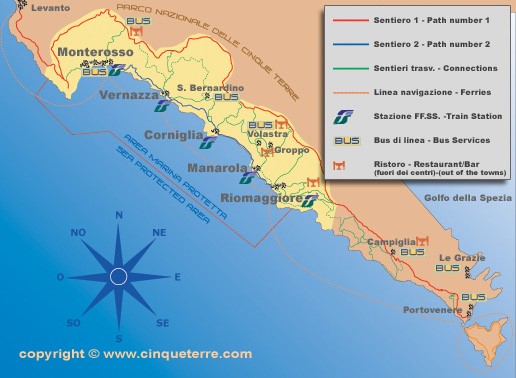 Cinque Terre is actually a national park, a protected waterway and a Unesco World Heritage site. Most vehicle traffic is restricted inside the villages. This explains why the area is preserved so well and has a way of transporting you to a simpler time.
There are five main villages that make up Cinque Terre:
Riomaggiore has one main street, a harbor, a rocky beach, a castle, a church, a pharmacy, and a dozen restaurants. It also has good train connections and is the closest to the main city of La Spezia.
Heading north from Riomaggiore is the second village called Manarola. It's also a one street town, with a small harbour where you can swim. It has an incredible spit of land where the most famous Cinque Terre photos are taken and is the smallest village.
Corniglia lies far above the ocean on the cliffs. You have to walk up the 365 steps (one for each day of the year) to reach the center of town.
The prettiest village of the Cinque Terre is Vernazza. She's incredibly photogenic. Vernazza is a one street town with a church built on the water. She has a castle, the remains of the old wall that protected against pirates, a gorgeous waterfront piazza and a harbor with a small beach.
The northernmost village is called Monterosso al Mare. She has many streets and cars can drive in this village. The landscape isn't as hilly as the others, so there are fewer stairs. Monterosso is made up of an old town, a new town, lots of sandy beaches, some larger hotels and a long seaside promenade.
La Verna Sanctuary
The closest city to the sanctuary is Chiusi della Verna which is 4 km away. You can drive or take a bus (the bus company is Linea Ferroviaria Italiana) to get the Chiusi della Verna. A few years ago we also found a private taxi that drove us to the Sanctuary from Chiusi by simply asking at a bar.
When it's nice weather out, it's really nice to walk to La Verna as the ancient pilgrims used to do long ago. Here we suggest an itinerary that goes from Chiusi to La Verna hiking up the old paved road which was the only road to the Sanctuary for a long, long time. Along this road, called Ansilice, stands the Cappella degli Uccelli – the Birds' Chapel – built in 1602 in front of a big Turkish oak that legend has it was the one where the birds that welcomed St. Francis the very first time he climbed up the Mount of La Verna nested. The Turkish oak unfortunately fell during a thunderstorm as did many other centenary plants in the area.
Going along the ancient road you reach the Southern gate of the Sanctuary which was the Sanctuary's old entrance. It's a big arched door called " Porta del Martello" – "Hammer's Door"resting for the most part on rock. The whole monastery has this characteristic: the walls are sitting against huge rocks of the Mount Penna which are part of the structure itself so that it looks like the entire monastic complex arises directly from the mountain. Over the door's frame an inscription states "non est in toto sanctior orbe mons": this is the holiest mount in the world.
You can enter the monastery from this door or continue walking along the monastery's perimiter to reach the main door, a more recent one easily reachable from the parking area just beyond. Here visitors are welcomed by a statue depicting St. Francis asking a child to free the doves he had to sell.
Siena
To really see what Siena has to offer, spend at least a night here. That way you have at least 2 days to explore the city: you can walk up and down its curving streets and find you've come back around to the same spot, discover great, small restaurants right behind a corner you had passed before and not seen and have time to explore the insides of its imposing palaces.
You can stay in the city to get a chance to both visit Piazza del Campo, have a nice lunch, explore the cathedral (and other sites offered with the same pass), enjoy a delicious, romantic dinner and then turn in for the night. Next morning, climb the Torre del Mangia before exploring the Civic Museum inside the Palazzo Pubblico. You'll have a chance to enjoy and soak the atmosphere of this quaint Medieval town, so different from our usual, contemporary daily lives.
Venice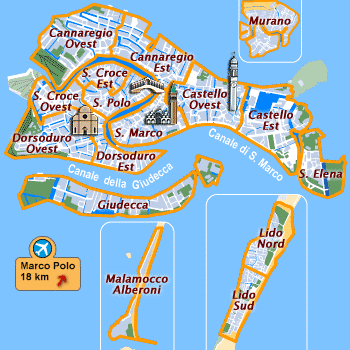 Venice or central Venice is easiest to think of as one large island. It's a cluster of tight-packed islands separated by canals. It's divided into six sestieri or districts.
The six central sestieri are:
San Marco – the tourist hot-spot.
Cannaregio – mostly quiet residential area.
Castello – stretches from the tourist centre to the public gardens in the east.
Dorsoduro – studenty and arty part of Venice, to the west.
San Polo – a small area tucked into the top curve of the Grand Canal. It includes the busy Rialto markets.
Santa Croce – busy bus terminus and quiet lanes.
The busiest tourist areas are around San Marco, Piazzale Roma and the railway station. These are the most convenient for sightseeing and travelling. For a short trip, staying either near these transport hubs or near St. Mark's will help you make the most of your time. If you're planning a leisurely or romantic trip, we'd recommend seeking out a slightly quieter location which might involve more walking or ferry trips.
When selecting, there are some important factors to consider. Travel in Venice is by boat or on foot. If it's an extravagant holiday and your hotel has a water-entrance, you could splash out on a water taxi. Otherwise you will have to walk to and from the nearest vaporetto stop, transporting your luggage on arrival and departure. Before you book, check the location carefully and note how far the accommodation is from the nearest vaporetto stop, and how many canals – i.e. hump-backed bridges – you will need to cross.
San Marco area. If it's important to be near the railway station or the bus stops at Piazzale Roma, look for a hotel in south-western Cannaregio, north Dorsoduro or the eastern corners of Santa Croce or San Polo. For bars and nightlife, such as it is, studenty Dorsoduro and the area around the Rialto are busiest. In northern Cannaregio and eastern Castello you'll find quieter residential areas for a more 'authentic' Venetian stay.
The Grand Canal is Venice's most famous feature, snaking through the town lined with historic palazzi. There are no roads or paths along its length, just scattered viewpoints from landing stages or brief stretches of pavement. If you want to sit and gaze at the Grand Canal, the most stylish way to do this is from your own balcony. Whatever category of hotel you choose, you will pay more for a room overlooking the water. However, if you're on a special trip, or a honeymoon, you may well feel this is worth the expense. Otherwise, choose a cheaper room in a hotel with a terrace on the canal where you can sit and admire the views.
Although the idea of overlooking the Grand Canal is a romantic one, do be aware that this is the busiest thoroughfare in the city. Waterbuses (vaporetti) and other boats can be noisy (and there is a vaporetto service throughout the night).
Milan
Duomo and City Centre The bustling heart of Milan city centre is the enormous Gothic Duomo cathedral. Tourists, business people and Milanese locals stroll through the main square, Piazza del Duomo, flanked by the 19th-century arcaded Galleria Vittorio Emanuele II shopping mall, and the 18th-century Palazzo Reale. Leading east from the Duomo is the crowded, shop-lined Corso Vittorio Emanuele and to the north is the celebrated La Scala Opera House. The area is just south of the art gallery district Brera and the designer shopping around Via Montenapoleone. Two lines on Milan's metro system converge at Duomo station and many Milan hotels are within easy reach.
Brera and Montenapoleone
The Brera district, renowned for its exclusive boutiques, upscale art galleries and trendy bars, lies just north of the central Duomo district. Narrow alleys invite aimless wandering. Its key attraction is the Pinacoteca Nazionale di Brera, or Brera National Art Gallery, packed with world-class art including works by Raphael and Mantegna. South-east of Brera is the Quadrilatero della Moda, where the well-heeled spend their Euros in high- end stores like Armani, Valentino and Versace in the streets around elegant Via Montenapoleone, or Montenapo as the Milanese call it.
Navigli
South-west of Duomo and the city centre are the atmospheric streets of the Navigli canal quarter, which borders the Ticinese canal district. Their late-night bars, quirky art galleries and narrow streets appeal to many holidaymakers when deciding where to stay in Milan. Crowds clock to Saturday's Fiera di Senigallia open-air flea market and the last Sunday of every month plays host to the Naviglio Grande's renowned antiques market. West of the quarter near Porta Genova is Tuesday and Saturday's Viale Papiniano flea market.
Parco Sempione
North of the Brera and Duomo district is Milan's largest green space, Parco Sempione, also home to the majestic Milan landmark of Castello Sforzesco. Inside, the art gallery, or Pinacoteca, has paintings by the likes of Mantegna and Canaletto. Sculptures fill the Museo d'Arte Antica, including Michelangelo's moving Rondanini Pietà. Climb the park's 109m- high steel-tube construction, Torre Branca, for Milan city views. South-west of the park is Santa Maria delle Grazie church which houses Leonardo's Last Supper. Milan hotels in the area are close to Cadorna Station, which has direct links to Milan's Malpensa Airport.
Central Station and Public Gardens
North of Duomo and east of Parco Sempione is the busy Porta Garibaldi district and bustling Central Station. One of its most famous attractions is the 10 Corso Como multilevel concept store, a design mecca packed with bookstores and boutiques. At Central Station, direct bus links to Milan Linate Airport makes it a convenient base for Milan hotels. South of the station are Milan's pretty Giardini Pubblici (Public Gardens) and the Modern Art Gallery.
Click For More Information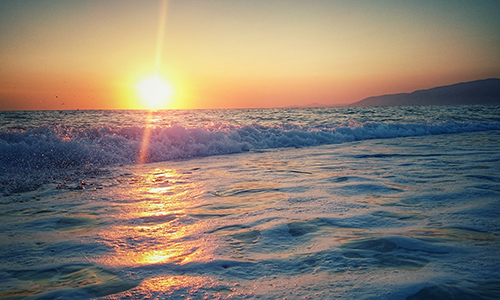 TRAVEL DOCUMENT REQUIRED
U.S. citizens must provide a valid U.S. passport. Passports are required for ALL U.S. citizens of any age entering Costa Rica. U.S. Citizens are not required to have a visa to enter Costa Rica. All non U.S. citizens should check entry and re-entry requirements. See passport information in the link here.
Passports