El Salvador
Worldwide Adventure Travel
It doesn't get better than Worldwide Adventure Travel!
Call or email for a quick quote and details on air, 4x4 and lodging.
(321) 773 4878
michele@worldwideadventures.com
Book Now
El Salvador Surf
El Salvador is known to have the biggest concentration of great quality right point breaks.
Surf is consistent in both the rainy season, April to October, and in the dry season, November to March. The south swells can get up to 10ft.  The winds are almost constantly offshore, so you get good surf year around.
The surf of the country is divided in three different areas, the first is in the center, the most popular and where you will find more variety of waves, in La Libertad.  Surf in La Libertad is closer from the international airport and also from the capital city, you find several spots every ten kilometers, some of them still uncrowded.  The other area is the West with less spots and an area that still needs to be discovered.  The other popular area is located at the East of the country where the waves are amazing but the surf is less consistence.  They call it the Wild East.
La Libertad
The intense is always on, all year long at La Libertad; From world renown Punta Roca break, rocky reef bottom challenges, to chock full of dizzying tubular lefts and rights.
We already know what swell is coming in, so let us anticipate the best conditions for your taste. We are native and know all of La Libertad's secrets
There are around 6 popular breaks (El Sunzal, Punta Roca, La Paz, K.59, La Bocana, etc.) on the weekend for the people of San Salvador but there are lots more that are not accesible for them.
Tortuga Surf Lodge
Tortuga Surf Lodge continues to be one of the best overall deals on the coast. If you are looking for a no-frills, clean oceanfront location where you can walk to great surf breaks, listen up. Tortuga is centrally located in Playa El Tunco / Sunzal, and is just steps away from two world class breaks, La Bocana and Sunzal. Its also close to all the great food and nightlife options that El Tunco offers. What sets Tortuga apart from other hotels nearby, is its great price. Starting at just $55 per night, you can't get a better deal on a clean room with AC, wi-fi, and oceanfront views. You can check the surf from your room and rest assured that the lodge will never be crowded. The hotel has a cool tower with a deck for checking the surf and a nice small dipping pool. They have cold beers on site waiting for you when you come back in from surfing, and their outdoor shower will have you feeling like you are in the Amazon rainforest.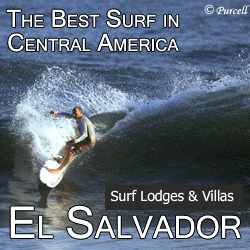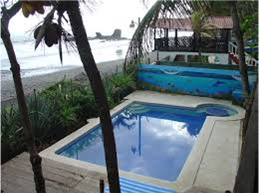 K59 Surf Resort
K59 Surf Resort is a beachfront, private area with access to the beach only by guests and offers powerful right waves with great tubes and fast sections. This point was unknown for many years, and still a secret spot for some people here. There is also K61, right point break which is only 500 mts. away from K59 and offers great waves with long rides and barrels. The coastal scenery seen from the water at K59 and K61 is breathtaking.
Three meals a day are included!  Order from their professional chef.  The kitchen is open all day.
Air conditioned bedrooms, private bathrooms, private swimming pool, three full meals a day, healthy drinkable water, TV, internet and hammocks.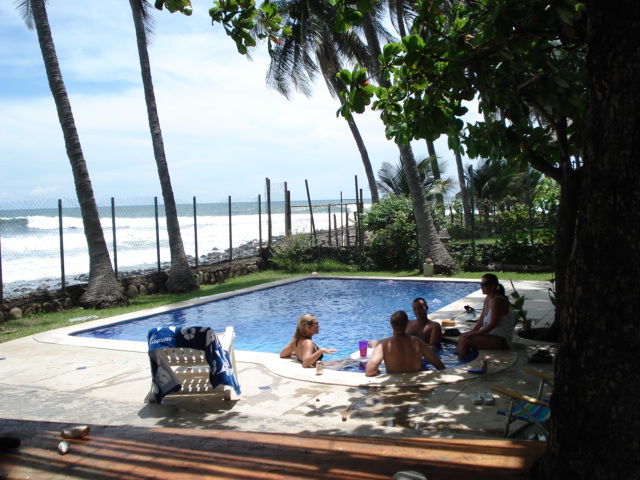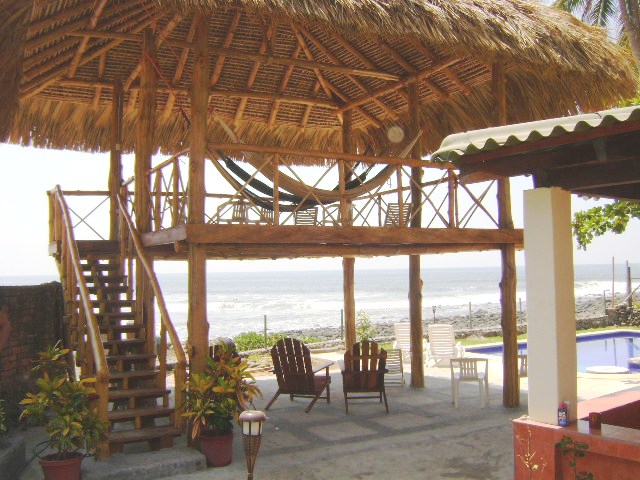 Casa De Mar
Casa De Mar is a hotel with individual villas, each with 2 queen beds and a sitting area.  The pool overlooks the ocean and the surf break is right out front.  Their restaurant is very popular in the area.
Directly outside your villa is one of the most consistent waves in the world. Sunzal Point picks up every south & southwest swell to produce one seriously long right and a few quick lefts. The hotel has direct beach access and the surf has everything else; something for long boards, short borders, beginners & professionals.
Drive a short distance east or west of the hotel and you will find a multitude of waves including the famous Punta Roca, El Zonte & K59. El Salvador truly is a surfing paradise.
Most of the wonderful Casa de Mar staff is avid surfers and the hotel is geared to meet the surfers requirements for an unforgettable trip.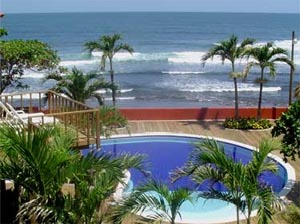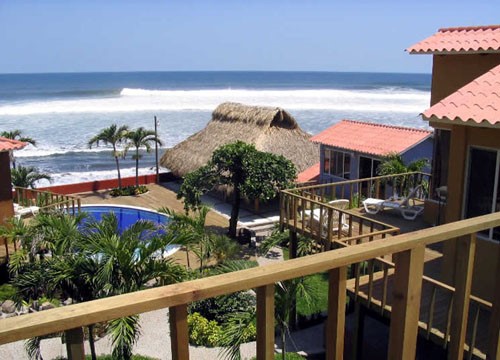 Las Flores Resort
Managed by surfers for surfers, Las Flores Surf Club's pride is its signature break "Las Flores" — a world-class, 300-meter-long, right-going freight train that forms outside the point and peels across the cove up onto the sand just meters from the front of the hotel. The epic location of the Las Flores Resort directly in front of the wave is without rival. In combination with the beachfront hotel's modern facilities and amenities, panga fleet for surfing and fishing the area, in-house surf school and the personalized service of our surf guides and staff, the result is practically unprecedented in surf travel.
Room pricing includes a suite, 3 meals, beer, wine, juices.
Several surf packages are available with lessons for beginner or advanced surfers with 2 boat trips a day and more!
Located southeast of San Salvador near Playa El Cuco.

Balance Apartment Suites
Balance Apartment Suites and Yoga/Surf Retreat. In La Libertad at El Tunco surf break. Our Beachfront Accommodations are simply spectacular. We currently have two modern apartment suites with full amenities, carefully designed spaces, and great ocean views. Each unit has 3 beds, A/C, fast wifi, and a full kitchen.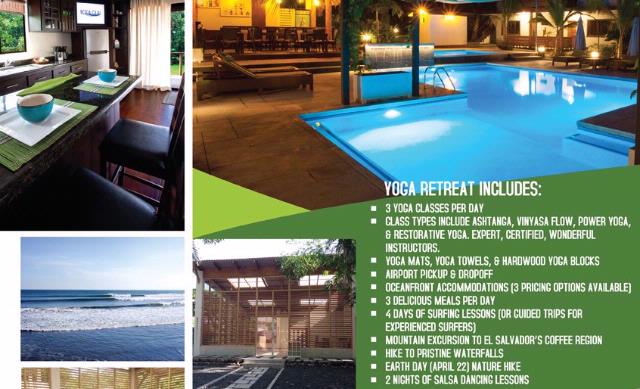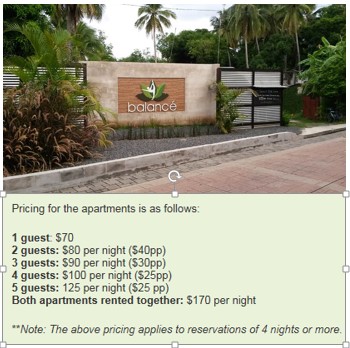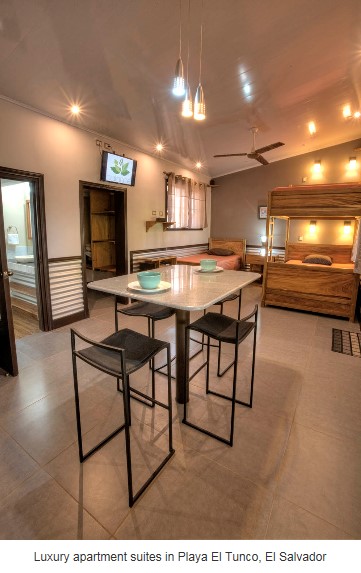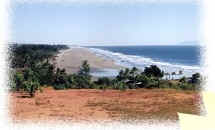 Wild East
Take a trip to 20 km of unexploited beach breaks, explore Punta Mango, an amazing break and best kept secret of this part of El Salvador.
Enjoy seven almost virgin, top quality right point breaks, take a boat ride expedition to unridden reef bottom waves.
This part of the country was abandoned during the civil war period and as it is 3hr drive from the capital and 40min to an important city with almost no surfers (4surfers). There is only one beach that is popular for this city people, all the rest are very isolated, that is how it has remained unspoiled.
Even though it is isolated we know many restaurants and hotels that are the best in the whole eastern part of our country.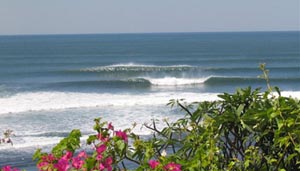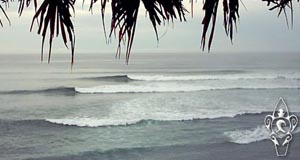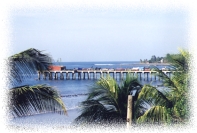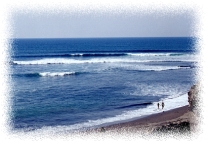 Wild East
Punta Roca: In the city of La Libertad you will find a world class right point break. Good waves at both tides but gets pretty shallow on low tide, also be carefull with "mama roca" a big rock that pumps out in your wave at low tide. There are three main sections, the end of the point is a hollow and fast wave also called "The point". There is also mid point section in front of the cementary and the inside cove, right in front of the town's restaurants is called "La Paz". A mellower wave where all the town's kids learn to surf and have a fun evening session. This section is good for longboarding. This town is the country's surf capital, where you will find surf shops, board rentals and repair shops like "Hospital de Tablas" and "Button's repair shop".
Conchalio, Cocal and San Blas: more than 10km of good beach breaks. Also at Cocal: a small right point.
Bocana: It is the only good quality left point break in the country! There is some localism attitude for this break but the people are usually very friendly in all our country. It is a powerful left with a nice wall, it can get hollow on mid tide going low.
Sunzal: is probably the most popular surf spot in El Salvador. It consists of a long and slow right and a short somewhat hollow section in the inside section. This break is always bigger than all other Salvadorian breaks and more consistant too. It is a rock bottom and deep water break and it is said that it will hold it's perfection in any size swell. Paddling out at sunzal can be loong because it has some current near the beach that gets stronger in rainy season. During pre-sunrise sessions the current is usually calm and the surf is at its best. The outside section can give rides more than 100 yards long but during low tide the inside section gets hollow and a lot better for shortboards. There's also a couple of board repair shops and small surf town scene.
Palmarcito: right point, not very good, it is good for beginners.
Zonte: right point break with beautiful settings of the headlands and some restaurants right in front of the break. There are a few surfcamps and cheap accommodations. When the surf is small there is a very nice hollow section. It is best on November to December.
KM 59: right point. It is in a gated community of beach houses but the break is a rock bottom that has good hollow waves. Best at mid tide coming in. There is access to house owners or Punta Mango guests.
KM 61: right point. Mellower wave in the other side of the point of k.59.
La Perla and Shalpa: beach breaks.
Mizata: left and right point break.
Fisherman's Point: There is an easy right hand break with rock bottom that is very consistant and there is a hollow left at that same point. At the other side of the break there is a nice sand bottom left but is hard to find it breaking.
There are many abandoned beaches and points with sandy bottoms, there are lots more of surf spots between La Libertad and the airport that are not popular and not well known by surfers (but well known by Punta Mango guides!). From the airport to El Espino in Usulutan there are more than 100 miles of beach breaks which are very good and a few unexplored point breaks just wating to be explored.
The East Coast
Las flores: Very consistant right point break. It is a sandy bottom waves with loong rides and a hollow outside section but there are no places to stay and sleep around. The break is very good for everyone, loongboarders and short boarders.
Punta Mango: Powerfull right point difficult to access by car, it is a lot loke Punta Roca: a hollow fast wave.
La Ventana: right point break that is very shallow at low tide.
Lucky Man's: This break has a beautifull settings beacuse it is at the start of our Gulf. It has Nicaragua and Honduras mountains at the background. As it is in a gulf, the waves have to be in a big swell to wrap around, but it is a loong and mellow ride.
There are also many secret spots and miles and miles of beach breaks.
The West Coast
Acajutla: This town has a big port nearby so there is a lot of restaurants, tranport industries and sailors around. There are a few breaks right in front of the restaurants strip, it is a beach break and a small point break right besides the Texaco headquarters.
From Acajutla all the way to Guatemala there are lots of beachbreaks and rivermouths that may occasionally break. For example there is La Barra de Santiago, that has a rivermouth that get good occasionally. This part of the country is particularily good for scuba diving and snorqueling. You will find white and shell sand beaches with lots of rock coral and reef, there is also shipwrecks and it is great for fishing too. Contact us for special packages and quotes.
Click For More Information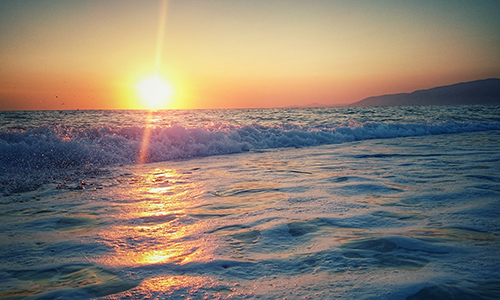 TRAVEL DOCUMENT REQUIRED
U.S. citizens must provide a valid U.S. passport. Passports are required for ALL U.S. citizens of any age entering Costa Rica. U.S. Citizens are not required to have a visa to enter Costa Rica. All non U.S. citizens should check entry and re-entry requirements. See passport information in the link here.
Passports