Surf Iguana
Iguana Beach, located in South Western Nicaragua, is the ultimate surf destination. Iguana Beach offers all of the amenities of a major resort combined with two world-class surf spots.
Why stay at a surf camp when you can live in luxury and have the best surf in Nicaragua right outside your back door?
Iguana beach is a prime location for all travelers to Nicaragua. It offers luxury accommodations on a beautiful mile long stretch of white sand beach with picturesque headlands at both ends of the beach. There are activities for all types of people to enjoy including surfing, sunbathing on the beach or by the pool, golfing, fishing, hiking, or just relaxing in the shade with a good book.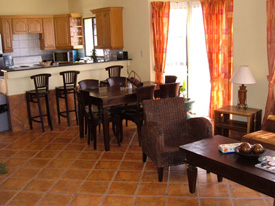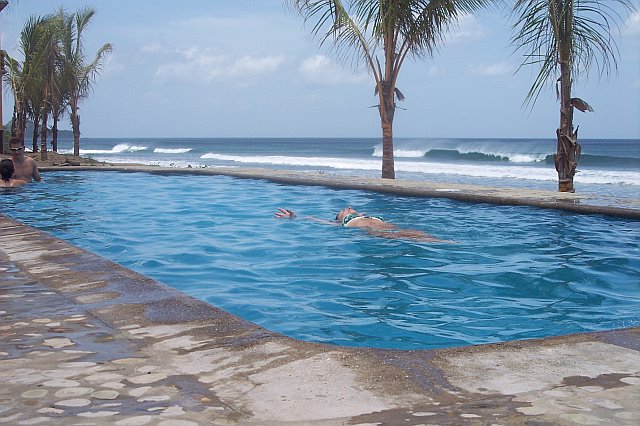 Accommodations
The condo is a 2 bedroom/2 bathroom unit with a pullout couch that sleeps up to 6 people. Both bedrooms have two twin beds that can be joined to form a king-sized bed at your request.
The condo at Iguana beach is exactly the type of condo you would expect to stay in if you went to any high class resort. The condo has 3 zones for A/C, is fully furnished and stocked with all the amenities you need.
The floors are Spanish tile throughout, with granite counter tops, and hard wood cabinets. The furnishings are classy and the beds are comfortable. The bathrooms are spacious, and provide hot water with plenty of water pressure.
The pool is over 40 feet long and is literally feet from the white sand beach.
It has a depth of 6 feet at one end and has a shallow portion for small childeren that is only about one foot deep.
The condos have lovely balconies overlooking the pool and the ocean.
A maid service is available to clean the floors, do the dishes, change the sheets, and provide you with bottled water. Everything you would expect from a maid service at a luxury hotel.